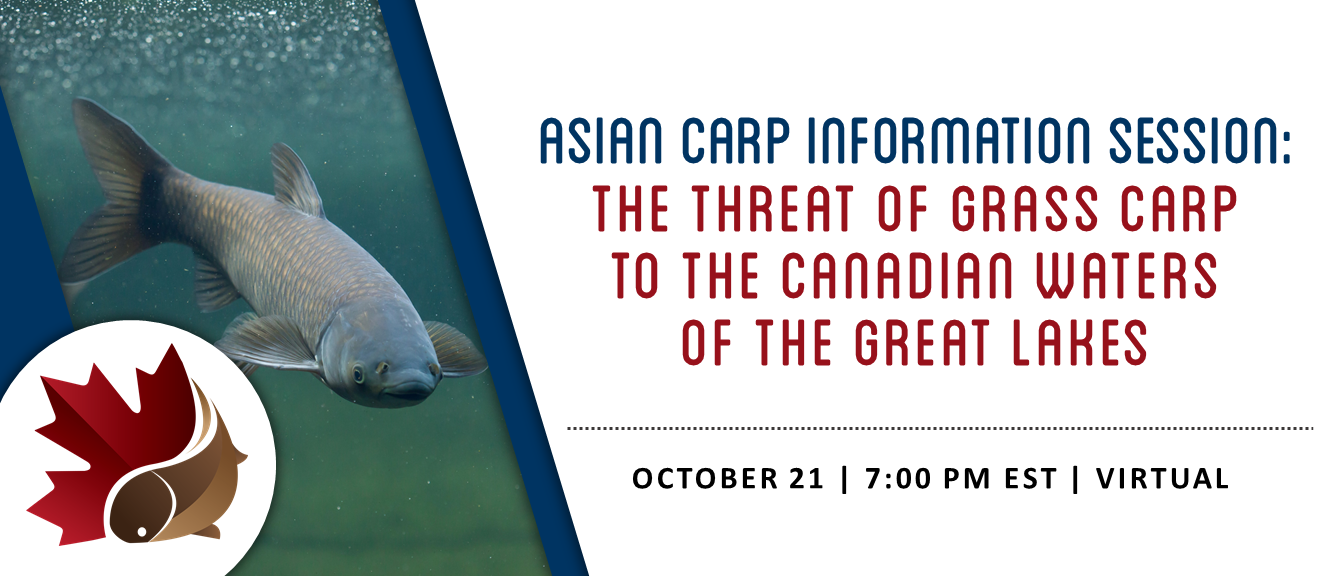 Do you have questions about Asian carps? Are you concerned about how they could impact the Great Lakes if they were to establish in Canadian waters? If so, then join us for a FREE virtual information session! This information session will focus on Grass Carp, one of the four species of Asian carps, and the one that poses the most immediate threat to the Great Lakes.
The Great Lakes are worth an estimated $13 billion annually. This includes revenue from recreational fishing, commercial fishing, recreational boating, beaches and lakefront use, recreational hunting and wildlife viewing from across Canada and the U.S. Grass Carp, one of the four species of Asian carps, have the potential to devastate the Great Lakes ecologically and economically if they were to establish. Just 10 Grass Carp per hectare could reduce wetland vegetation by 50%, pushing out species that depend on these wetlands for food and habitat. Grass Carp establishment could negatively impact angling by decreasing biodiversity, boating by reducing water quality, and other forms of recreational water use.
This event will feature a presentation by Fisheries and Oceans Canada followed by a question and answer period with a panel of experts made up of representatives from Fisheries and Oceans Canada, the Ministry of Natural Resources and Forestry, the Ontario Federation of Anglers and Hunters, the University of Toronto and Ashley Rae, Angler, Fishing Content Creator and Fishing Guide from SheLovesToFish.com!
This event welcomes anglers, boaters, cottagers, Great Lakes enthusiasts and interested members of the public!
AGENDA:
7:00 PM – Welcome and Introductions
7:10 PM – Presentation by Fisheries and Oceans Canada
7:50 PM – Panel of Experts Introductions
8:00 PM – Question & Answer Period with Panel